OTSI School
To address the shortage of qualified medical transcriptionists in a growing industry in the Philippines, we launched OTSI School in August 2006. It was put up to help students, who wish to have a transcription career, be job-ready upon graduation. Based on our experience in OTSI Baguio as a transcription company, successful applicants still had to be trained in-house to take on the job. We prepare aspiring transcriptionists to take on transcription jobs competently on day one.
The Transcription industry is huge!
Estimated at more than US$20 billion today, medical transcription is currently one of the fastest growing industries with an average growth of 10% a year. Yet, there is an extreme shortage of transcriptionists. According to leading market research company Technavio, the global medical transcription market will grow by USD 16.64 billion during 2020-2024.
The global thrust is to outsource the job overseas due to lower operating costs. The Philippines is a country of choice of U.S. physicians, hospitals, and clinics because of our English proficiency, exposure to American culture, and reasonable labor wages. Legal and General Transcription are growing just as fast. If you want to go that route, our MT graduates can easily take on LT or GT jobs.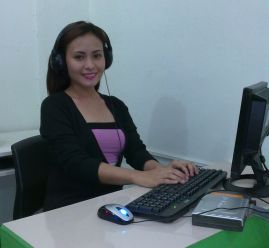 OTSI School is accredited by TESDA with WTR#0613032121. TESDA is the government regulatory body for technical and vocational-training learning centers.
Our vision: to provide the transcription industry with the best transcriptionists in the Philippines through: a specially-designed course curricula for Medical Transcription that combine our first-hand knowledge of the business at OTSI Baguio and the industry, the experiences of other transcription schools in the Philippines, and the basic course structure provided by TESDA.
Our location: Las Pinas City, Metro Manila. It is a short walking distance away from SM Southmall, near several banks.
Our trainers/teachers: Veteran professionals (medical practitioners, medical language editors, English professors, and computer professionals).
Our graduates: To date, more than 90% of our graduates are already gainfully employed — or self-employed, home-based — here and abroad.
We offer the following short-term programs:
Allied Medical Transcription: For graduates of medical courses like Nursing, PT, Medical Technology, Pharmacy, Biology, Chemistry, etc. You only need to pass our Medical Competency Exam to take advantage of our Five-week course. While waiting for employment or papers for going abroad, take this special short-term MT course and have an alternative career for immediate employment! 200 hours plus 160 hours in-house OJT.
Regular Medical Transcription: For regular college graduates and undergraduates. 340 hours plus 160 hours in-house OJT.
After earning your certificate for any of the two short courses, you can apply in any transcription job anywhere in the world and EARN BIG BUCKS!
* In-house OJT offered for the above.
OTSI School can help you become a transcriptionist.
Once you have earned your TESDA-registered certificate, you can apply for a job as a transcriptionist in the Philippines, USA and other countries/places like Canada, Australia, UK, the Middle East, etc. You may also work at home with your own clients! Your training also prepares you to also become an office encoder in any business here and abroad.
| | OTSI | Other Schools | Free Training Offers |
| --- | --- | --- | --- |
| TESDA-registered* | Yes | Yes/Maybe | No |
| MT fundamentals** | Yes | Yes | Limited |
| MT Books/Resources*** | Yes | Limited | No |
| Basic MT Training | Yes | Yes | Yes |
| Editor/QA Training | Yes | No | No |
| Flexible Schedule | Yes | No | Yes |
| Guaranteed OJT | Yes | No | Yes |
| Personalized MT Coaching | Yes | Limited | Limited |
| Industry/Insider Information | Yes | No | No |
| One-on-one English tutorials | Yes | No | No |
| Flexi-time sked for students | Yes | No | No |
| Fast-tracked training | Yes | No | No |
| Recognized TESDA assessment center | Yes | Limited | No |
| Flexible payment terms | Yes | Limited | N/A |
| Certificate(s)**** | Yes. You get two! | Yes. Only one. | Optional |
* Training is recognized worldwide
** Training is recognized by most other companies
*** Books and materials are based on actual MT experience
**** You get TWO TESDA-registered certificates from us: one from the school, and the other from our OTSI production facility. Majority of the employers now require certification of some sort. Other schools give your the added burden of taking your OJT somewhere else.
The 10 advantages of an OTSI education:
The first TESDA-registered Medical Transcription school in Las Pinas City fully dedicated to the industry.
We have a real transcription company to back us up: Optimum TransSource, Inc., a one-stop, full-service transcription company based in Baguio City.
Comprehensive curriculum; you can take your OJT on campus requirements and materials will be provided by our OTSI company. Or, if you have a company in mind, we could give you a recommendation.
Fully-online, though in case you want to pay us a visit, we're just a few steps away from SM SouthMall! Accessible from Alabang, Paranaque, Makati, Cavite, and Laguna.
Faculty — veteran corporate executives, ITs, medical doctors, and experienced transcriptionists.
Low and easy payment terms.
Customized training materials.
What are the steps/requirements in becoming an MT?
Choose your payment terms.
Enroll through online (or offline) bank transfer. (We'll give you our bank details when you're ready.)
Take the OTSI evaluation exam.
Choose your class schedule depending on your availability and preference. Everything is done at your own pace.
After the training, you have the option to take your OJT with us. Should you opt for off-school OJT, the OJT fee is waived.
After completing all the requirements, you will be issued a TESDA-registered Certificate of Completion.
Enroll now and be an MT in just 5 weeks, or 5 months!
Call us at (632) 8801-4504, or email us at mtinstitute@otsiinc.com.